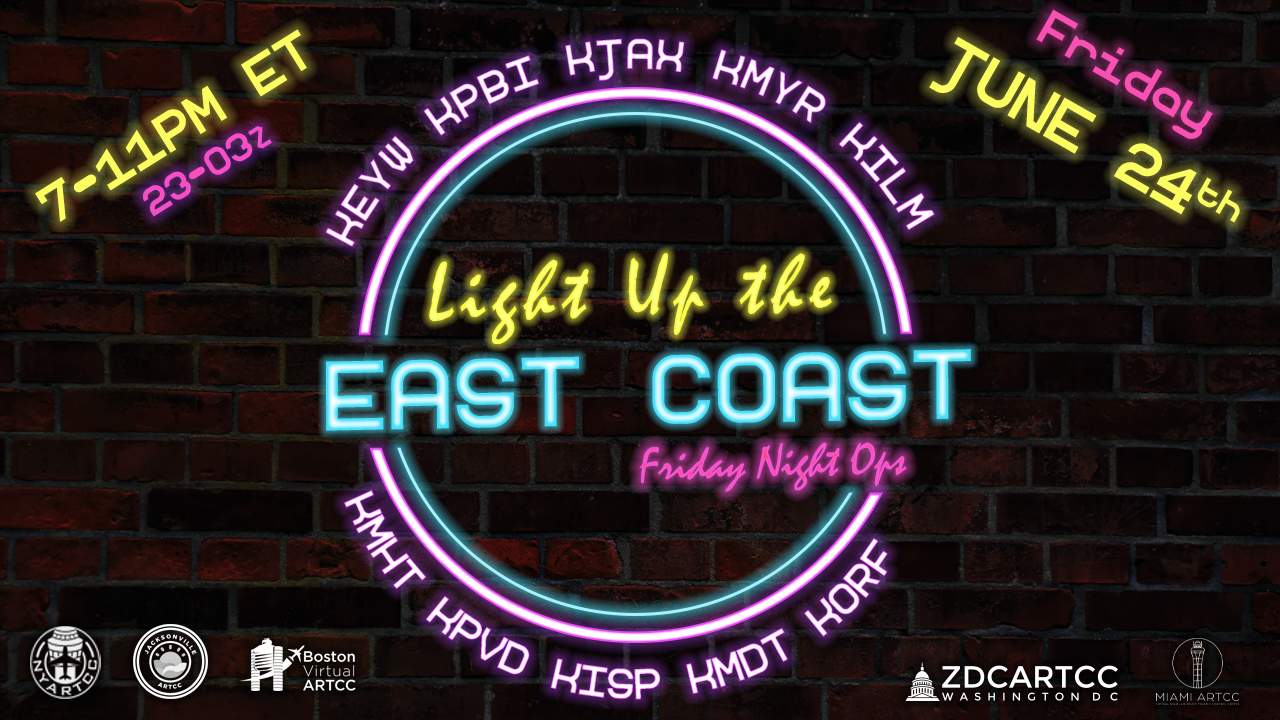 Event Summary
Departure Airport: KMYRArrival Airport: KJAXRoute: Pilot's DiscretionDate: 06/24/22 23:00:00Z (GMT)
Event Attendance
You are not logged in. If you would like to confirm your attendance to this event, please login.
Events Details
The East Coast consists of 2,165 miles of shoreline stretching from Maine to Florida. It is the most populated coastal area in the United States and home to several of the nation's most historic landmarks. The East Coast also features some of the largest airports in the United States, but you will find none of them staffed this night. That is right – this FNO is featuring all the airspace in between the mega metroplexes you are more used to seeing.


Miami ARTCC, Jacksonville ARTCC, Washington Virtual ARTCC, New York ARTCC, and Boston Virtual ARTCC have come together to guarantee staffing at the 10 featured event airports – none of which are Class Bravo airports (by design). We want you to explore what our connected airspaces have to offer from Key West to Palm Beach, Jacksonville to Myrtle Beach, Wilmington to Norfolk, Harrisburg to Islip, and Providence to Manchester. You can expect full staffing along the eastern seaboard for the entirety of the event. The goal of this event is to spread the traffic volumes across all 675,000 sq. miles of airspace, which are lit up for this special night.


Event Fields: KMHT, KPVD, KISP, KMDT, KORF, KILM, KMYR, KJAX, KPBI, KEYW
Date & Time: June 24th 2022, 7:00pm → 11:00pm Eastern (2300z - 0300z)


P.S. These facilities again are selected to give you, the pilots, maximum coverage along the East Coast. If you notice and see several facilities getting most of the traffic, then you can expect delays if you choose to head there as well. We kindly ask and remind you that we have TEN (10) airports staffed, so go out and find that needle in the hay, that diamond in the rough, that airport without delays and fly there instead.

P.S.S. No really don't form conga lines or you can expect to polish off your holding procedures.